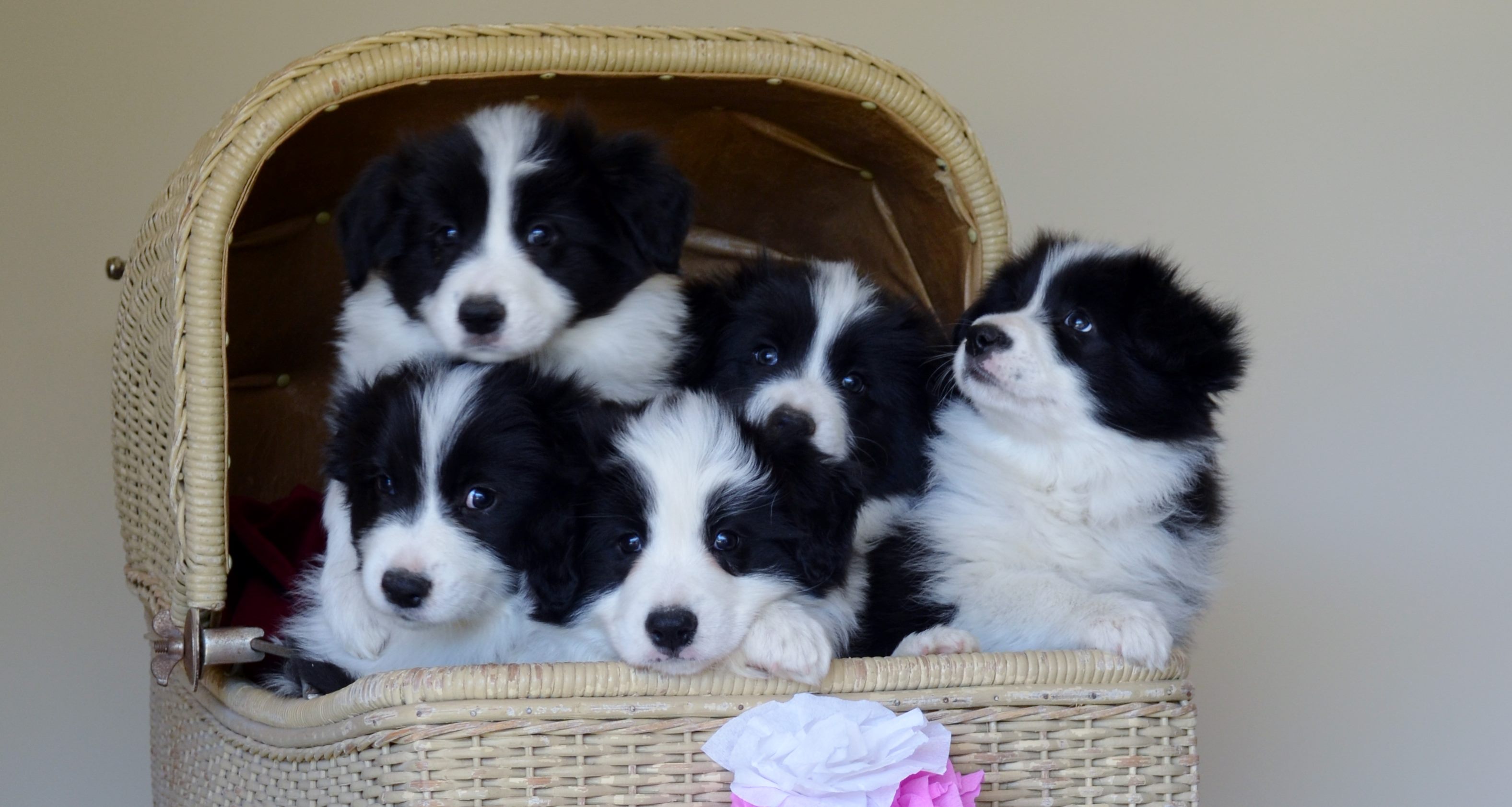 Milli's Pups from the August 2013 Litter
Our Story
My name is Catherine Bull and my family and I live on 10 beautiful acres at Upper Lockyer, a small community situated at the bottom of a section of the Great Dividing Range, 15 minutes from Toowoomba in South East Queensland.  We are a small kennel that strives to breed for type, temperament & a healthy & happy family pet.
By chance I stumbled onto this beautiful breed and feel very privileged being able to breed beautiful Border Collies.

In 1998 my family and I decided to buy my Mother a Border Collie pup. To my dismay, my mother was not really excited about the idea as apparently she had always wanted a Collie (Lassie Dog) not a Border Collie. Our family took little Reggie home with us and until his untimely death in 2000, we enjoyed a wonderful bond with this amazing loyal pet.
In June 2001, I was extremely lucky to come across an advertisement in our local paper looking for a loving home for a family's blue Border Collie, as they were moving and were unable to take Oscar with them. Oscar, (Wottapud Torbrek Blue 2-7-98) who was bred by a lovely family from Gympie, Carol and John Penn of Wottapud Kennels, never looked back from the first night we brought him home. He settled in instantly with us and had given us many wonderful years until his passing on 21-12-2009 at the age of 11 ½. Oscar completed his 5 levels at Toowoomba Dog Obedience with my then 14 year old daughter, Charlotte who never missed a Tuesday night with Oscar regardless of the bitterly cold nights in Toowoomba in Winter, as Oscar just loved school and always seemed to know when it was Tuesday night. He also was chosen for a spot in the 2008 Optimum Dog Food Calendar as 'Mr November' and really enjoyed his photo shoot, which took about three hours and then followed that with a spot in a pet store TV commercial.
My darling boy made me think more and more each year that I needed to carry on his intelligent lines and wonderfully calm nature plus a 'Look at Me' personality, hence the beginning of 'Ionaborda Border Collies' in early 2007. The 'Iona' part of my prefix came from the name of a small island 'Iona' which is situated off the west coast of Scotland, remembering that the Border Collie was bred on the border of Scotland and England. I've also incorporated the red & green 'Iona Tartan' on my business cards and on my website.

My dogs and I are always kept busy with Dog Obedience training and we are very involved with Herding Training and progressing through the ANKC Herding Program, with all of my dogs attaining some titles already.  I am also a committee member on the Herding Sub-Committee for Dogs Qld.  There is nothing better than watching my dogs doing what they were originally bred to do. I am very lucky to live only a few kilometres from "DogLand Australia" herding grounds at Murphys Creek. Qld., where we train our dogs at this great facility.   

I also show my dogs in the conformation ring and on November 29th 2014, Murphy (Aust.CH Mackim Shipping Out To Boston HT) gained his Australian Championship Title at 20 months of age.  This was our first AUST. Champion for our Kennels. On July 3rd 2015, his daughter Racquet (AUST CH Ionaborda All England Club PT) gained her AUST. Championship Title at 1yr & 6 days of age.  This is our very first  "Home Bred" Australian Champion. Our next AUST Champion is Glance (AUST CH Neecabe Just One Look HT) who was bred by Sharon Hannigan from Neecabe Border Collies, who gained her Title on 12th May 2018.  Our latest AUST Champion is Poe ( AUST CH Ionaborda Adream Within Adream AI).

I hope you enjoy my website and the photos of my dogs and puppies, so please come back and visit my site again.